Welcome to the first installment in what I hope will become a regular feature on the blog, "The Stockpile Chef". I will be sharing recipes that mainly use ingredients that I have in my stockpile (and hopefully you do too).
As much as I try and meal plan, some weeks it just doesn't happen. But with a well stocked pantry and freezer and usually a quick trip to the produce stand, I can generally come up with a pretty good variety of meals. We always have chicken breast (either from Costco or
Zaycon Foods
) and beef (ground and other cuts). We have been buying our beef from
Baron Farms
. It is more expensive, but it is worth the extra expense for us.
Obviously, I can't stockpile fresh fruits and vegetables but I always buy a basic ingredients that I know we will use (salad fixings, onions, garlic, apples, bananas, etc). Then I add in whatever is in season and build my menu around those items.
On to the recipe...Swiss Steak Quick and Easy. The only thing I had to purchase for this recipe was the mushrooms.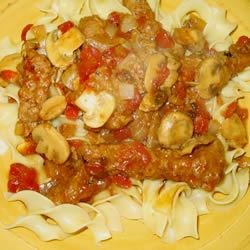 Ingredients
1 tablespoon vegetable oil
2 pounds cube steaks, pounded thin and cut into bite-size pieces
1 1/2 tablespoons all-purpose flour
1 medium onion, chopped
1 pound mushrooms, sliced
salt and pepper to taste
1 (1.2 ounce) package brown gravy mix
2 (14.5 ounce) cans stewed tomatoes
1 (12 ounce) package egg noodles
Directions
Heat oil in a Dutch oven over medium heat. Dredge steak strips in flour. Working in batches, place strips in hot oil. Fry until browned on both sides. Remove to a warm platter. When all meat is browned, return meat to Dutch oven, and stir in onions, mushrooms, salt, pepper, gravy mix, and stewed tomatoes. Bring to a boil, then simmer about 30 to 45 minutes.

About 20 minutes before steak is finished, fill a large pot with water and bring to a boil. Add pasta, and cook until al dente, about 8 to 10 minutes; drain.

Serve Swiss steak over noodles.